News
Hadith of the Day:
Imam Redha (as) has said: "Someone who recites one verse from the Book of Allah, the Mighty, the Glorious, in the month of Ramadhan, is like one who has recited the entire Quran in the other months."
Bihar al-Anwar, Vol.: 93, Pg.: 344
Hadith of the Day:
Imam Ali (as) said: "The month of Ramadhan has approached you. It is the chief of all months and the beginning of the year."
Bihar al-Anwar, Vol.: 42, Pg.:193

Tuesday 2nd August is the 1st day of the holy month of Ramadhan in London as well as Europe, except for Scandinavian Countries
Wednesday 3rd August will be the 1st Day of the holy month of Ramadhan for Scandinavian Countries
Ayatullah Sistani (May Allah SWT protect him)
Based on the rulings of differing of horizons, there is no possibility of sighting the crescent anywhere in Europe on Sunday 31st July 2011 .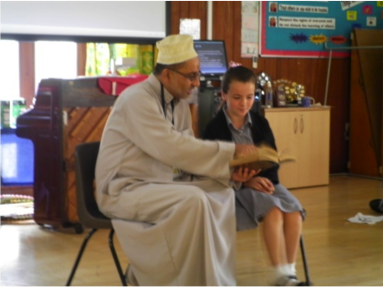 School children from Peel Common Juniors have enjoyed an insight into the world of Islam. On his first visit to the school in Gosport on 11th May, 2011, Sheikh Fazle Abbas Datoo shared his experiences of the faith, in support of the children's RE work linked to submission.