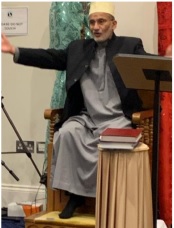 The 1st Titchfield Sea Scouts cub pack had a very fascinating visit to the Al Mahdi Centre on Thursday 18th November. The children were warmly welcomed by the centre, and it was lovely and warm with their environmentally friendly underground heating system the floor was very toasty.
We were greeted by the Imam Sheikh Fazle Abbas who showed the children the washrooms and explained why Muslims wash their face, hands and arms before entering the Mosque to pray. Upon entering the Mosque, the children asked many questions, why do we have to take our shoes off? Why do girls have to cover their hair? Sheikh Fazle Abbas answered all their questions and went on to explain all about the Muslim culture, the prayers on the walls and symbols around the Mosque. He also showed the children the Qur'an in Arabic and English and explained how Arabic is read from right to left where English is read from left to right.
Sheikh also demonstrated prayer positions and sang prayers in Arabic. Quite a few parents stayed for the visit as they too were interested to hear all about the culture. The cub's parents have sent us emails praising the visit and how much they valued their children having such an 'outstanding experience'. We thank you for opening your doors to us and making us feel so welcome. The children were grateful for their treat! We would love to visit again one day.